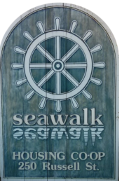 Seawalk Co-op
We're a diverse, 40 unit housing co-operative located in the Vic West area at 250 Russell Street. We are on major bus routes, a 20 minute walk downtown, and only one block from the ocean.
Click here to learn more about housing co-operatives
To apply for membership, click here to download our application in PDF format, then mail or drop it off to:

Seawalk Housing Co-op
c/o Cascadia Community Solutions 211 - 2840 Peatt Road Victoria, B.C. V9B 3V4
We currently have NO VACANCIES
You may submit an application to the address above and keep it updated every 6 months to be considered for the next unit to come available.
Questions? Please contact Seawalk's Property Manager at 250-940-1885 or membership@seawalk.coop.
Unit Information
Unit size
Number of units
Housing Charge
1 bdrm tnhs
2
$980
2 bdrm tnhs
20
$1,243
3 bdrm tnhs
14
$1,420
4 bdrm tnhs
4
$1,466 - $1,513
Share Purchase
$4,000